Shakespeare Ate My Brain
A new comedy from the minds behind "The Rambler Family Ramblers" and "Where There's a Will..."

Barry Shay and Jeffery Goodson are at it again! For the 2012 Minnesota Fringe Festival, they are exploring the latest and greatest Shakespeare conspiacy theory.... His plays were originally performed by zombies!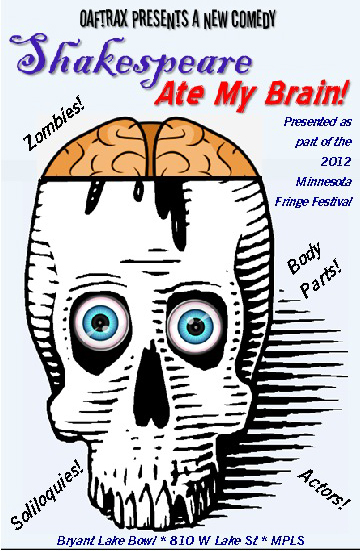 Sword fights, insults, soliloquies, zombie choreography and more fill the stage at Bryant Lake Bowl for five must see performances in August, 2012.

Featuring the on-stage talents of Karen Batdorf, Brad Damon, Barry Shay and Jeffery Goodson and directed by Chris Kliesen Wehrman, stage management by David Nyberg, this crazy comedy brings many of the bard's masterpieces back from the grave for a rollicking good time!


Here are some reviews of the production:

Shakespeare Ate My Brain!
Inevitably, the Minnesota Fringe is destined to have Shakespeare and zombies (and sometimes both in the same production). Audiences never seem to tire of the Bard, but it's no surprise that zombie fatigue is settling on the fest, and pop-culture at large. So when OAFtrax finds something new to do with the genre, the rotten subject matter gets a fresh take. And the show even manages to get away with being (somewhat) educational.
Cleverly remarking upon and summarily eschewing the traditional zombie tropes, Shakespeare Ate My Brain! revels in the camp of theatrics, stage curses, and horror comedy. Barry Shay and Jeffery Goodson shine as the two greatest (and undead) of history's Shakespearean actors, Richard Burbage and Edwin Thomas Booth. The chemistry between the two bickering friends/rivals is solid, and the leads clearly have the most fun possible ribbing local theater targets and venues attached to bowling alleys.
This show is unrelenting in its humorous momentum. It's smarter than it has any right to be. Damnit, I'll say it: It's infectious.
Nick Decker mpls.tv
User reviews
Nice first show to see
by Charles Beeson
Rating 4 stars
Been busy with my own show, so "Shakespeare Ate My Brain" was in the neighborhood and checked it out. Nice premise... The "Thriller" dance sequences were pretty funny and well choreographed. For a lover of Shakespeare, it was a test to see what you know, but light enough to crack up "the Chanhassen Dinner theater" crowd (they apologized in advance in their program). The main superstitions of theater are revealed and explored and I'm sure a few actors in the audience were looking over their heads just in case. Talented cast and an informative program full color program. Go see it if you can (zombies!)
Shakespeare Ate My Brains
by Peg McKee
Rating 5 stars
Funny, smart, fast-paced. This show is a winner! Supercilious references to the bard himself pair seamlessly with pop culture inside jokes including the de rigor Thriller, Darth Vader and James Lipton. Don't miss this one!
Burbage & Booth as Zombies
by Jon Skaalen
Rating 3 stars
It was great to see old Rick Burbage and Eddie (Edwin) Booth on the same stage, sharing their favorite Shakespeare lines and stories as they both eagerly anticipated a meal of fresh actor brains. Great gawdy makeup, the best and most informative playbill at the Fringe, and lecherous comedy that only flagged a few times later in the show.
Much Ado About Zombies
by Chris Kirkham
Rating 5 stars
Easily the best zombie choreography of the Fringe! The rapid-fire humor hits more than it misses thanks to sharp timing and fancy footwork. Definitely add this one to your schedule!
Braaaaaaiiiinnnns.
by Jesse Villarreal
Rating 4 stars
Zombies and Shakespeare? Yes please. Witty and smart, this show was very funny. Kudos to Barry and Jeffery for keeping me rolling in my seat with their zombie antics.
A New Take On Shakespeare's Works
by John Hatlestad
Rating 4 stars
Highly entertaining, even if you're not a big Shakespeare fan (which I'm not).
I believe that this show would be heaven for those familiar with the Shakespeare repertoire.
For me, I loved the silly premise (I am personally committed to seeing any Fringe show that mentions zombies).
Just as a helpful note, it helps if you read the program before the show.
The Shakesperean actors are fabulous!
Great Fringe show! Go see it!
Shakespeare Ate My Brain
by Jean Jones
Rating 5 stars
I laughed "my head off"! And learned so much about history that I didn't know before. Everyone in the cast did a fantastic job. It was such great fun.
Shakespeare is ALIVE and well
by M. E. Review
Rating 5 stars
This little gem might get lost among the larger, glitzier productions but add this show to your list.
Part Shakespeare (more than you'd think), part buffonery, part charm, part humor (the face slapping never gets boring), and part gore--- you'll be laughing through this production. I don't want to spoil all of the moments for you but think voodoo dolls and Michael Jackson.
The ensemble played off each other well, the direction was strong, and the choreography - well, you'll see.