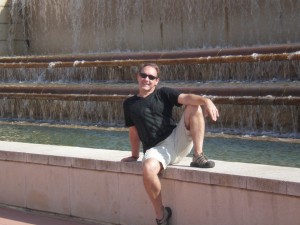 Janet Jackson famously said, "What have you done for me lately?" As performers we hear that we're only as interesting as our next project, so this is where I talk about what I'm working on now and in the near future.
02.13.2016: Working on the songs for a new album called "Of the Same Name", one of my most personal creations yet. Several of the songs were surprises to me as they worked their way from my heart and brain to my fingers and voice. I have had a chance to play these songs for small yet appreciative audiences at a couple of local Twin Cities coffee houses (special thanks to J&S Bean Factory for their unwavering support!) and gauging some of the reactions has been amazing to me. The album will be ready soon.
In the meantime, the editing on our movie "Shakespeare Ate My Brain" is also moving forward (nearly 2/3 put together) and revisiting this footage that we shot very quickly in five nights in a borrowed theater (and a couple of other locations) has been a laugh filled romp because of the terrific people who have been involved with this project (many from the very start). There will hopefully be some film festivals in our future when the movie is ready for release!
10.02.2014: Vampires! Horror! is as they say "in the can" and after attending a premiere screening, I must say the joy we had making this thing comes across in the whimsical energy and silly camp splashed across the screen! Cross your fingers hoping that it gets into some film festivals and others get to see and rock with the vampires, the townspeople and that incredible military presence led by yours truly, the General…
After some time away from the project, we are gearing up to finish the "Shakespeare Ate My Brain" movie. The first steps: Put together the tracks for the musical finale and start sorting through the footage we shot last year. We also have to shoot a few introductory scenes to put behind the opening credits. Then schedule and shoot the finale on location!
On top of this, comes the beginnings of a new CD, not named yet, but there are 3 songs already along with some ideas for more. This is one of my favorite times, seeing and hearing new music as I wade in the pool of creativity.
07.13.2013: I am working on two movies at this time (The musical comedy "Vampires! Horror! and a comedy based on a stage play I co-wrote last summer called "Shakespeare Ate My Brain" – yes that would be zombies doing Shakespeare!) and gearing up for a fall production of "Our Town" which is going to be great fun. And on the Hear This page is a link to a new song I wrote recently, inspired by my state of Minnesota passing a Freedom to Marry Act and the Supreme Court overturning DOMA and Proposition 8 in California.